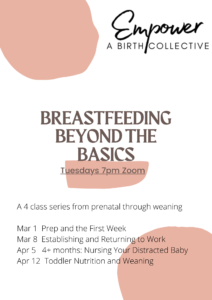 Classes currently on Zoom
Lactation Support in Hampton Roads
Your breastfeeding goals are our goals
February 26, 2022. Below is our current availability of services. If you have any questions please feel free to contact us. Please follow us on Instagram at @Lacticathy for current news and updates for classes and support group.
Schedule by phone or text message
757-839-2857
Beach Babies Lactation Support, LLC does not currently participate in any insurance plan. A superbill will be provided. Please contact your insurance company with questions regarding out of network reimbursement.
Codes commonly used are CPT 99245, ICD-10 Z39.1
In Home Lactation Consultation (approx 2 hours) $200
Initial consult includes free phone support for 6 weeks following last appointment
In Home Lactation Consult including pump trouble shooting (approx. 3 hours) $300
Follow up In Home Consultation (1-2 hours) $150
Click here to make payment and for New Client paperwork
Free Breastfeeding Classes
See left column for information on current dates
Free Lactation Clinic
Tuesdays from 10am to 1pm at Empower- A Birth Collective.
809 Brandon Ave Ste 208
Norfolk, Va
Door code is *0100.
Turn left at top of stairs or from elevator. Office is the first right turn.
Support group during the Lactation clinic from 1030am to 1130am
Lactation Mini-Consults $75
Fridays from 1pm to 4pm. Prepaid consults. Call 757-839-2857 to schedule.
Phone Consults $25
These are ideal for when you have questions, but do not require hands on or visual support of issue. This fee will be waived for Medicaid and WIC participants
Virtual Consults $125
Virtual Consults are available through Google Meet
Please use this option if you have a fever, cough, flu-like symptoms or have come into contact with someone who tested positive for Coronavirus